Management, Leadership, and Professional Development Consultants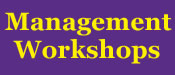 "The more that you read, the more things you will know.
The more that you learn, the more places you'll go."
Dr. Seuss
Welcome,

Our consultants present single session, one-day, and multi-day workshops and
seminars for your organization that provides participants with current, timely
strategies for ongoing personal and professional development. Workshops may
include such topics as setting SMART goals, your personality and communication
skills, time management, conflict resolution, team building, the multi-generational
workplace, creating an individual professional development plan, finding a mentor,
and coaching.

We also provide workshops for educators on a wide range of topics, including
Reaching Reluctant Readers, Motivating the Unmotivated Student,
The Reader's Response Journal: From Reading to Understanding - Knowledge
to Analysis, Upping The Advanced Placement Game, and Using AVID
Techniques Across the Curriculum.